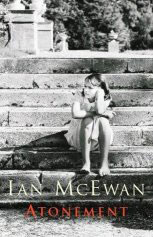 This was my first Ian McEwan. Now I need to go back and read all of his other books. Soon.
He's fantastic. A lot of the critics seem to compare him to Jane Austen, which I thought was strange. He reminded me much more of E. M. Forster. At least, the first part did. The second part made me think of Hemingway, a bit. (Not that I've read a whole lot of him, but the style changed significantly and it was set during the war and that was who I thought of. So there.)
I'm flipping through my copy now, and I marked page after page, passage after passage of bits that I might include here. But I've decided not to. The book should be read as a whole.
The story starts in 1935 England--Briony, the youngest of three, witnesses two interactions between her older sister and the son of a servant. Her immaturity prevents her from fully understanding what has happened, and due to this, an innocent man is taken away in handcuffs.
As much as I want to blabber on and on about it, I'm not going to, because I'll end up giving away too much. It'll very definitely be on my Best Books I've Read This Year list.
I highly highly highly recommend it. So read it. (But not if you're in the mood for something light. I thought I was going to die by the time I finished it. I sobbed.)