Dana Reinhardt is the author of the absolutely wonderful fantastic (and fabulous) a brief chapter in my impossible life. Read it.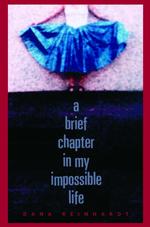 Book Currently Reading:
Never Let Me Go by Kazuo Ishiguro
CDs Currently in Rotation:
I'm all about the IPOD shuffle. So here are some of the songs I'm shuffling right now:

Sly and the Family Stone's cover of Que Sera, Sera
The Proclaimers--Letter From America
Dusty Springfield--Son of a Preacher Man
Rufus Wainwright's cover of Leonard Cohen's Hallelujah
Last Movie Viewed:
Best of Youth on DVD. A six-hour Italian miniseries that blew me away.
Literary Crush (real or fictional):
It's a toss up between Tom McNeal and Markus Zusak. I've been on book tour with them for two weeks and they are both amazing.
Pet Peeve:
When someone else is sitting in my favorite seat at Peet's Coffee.
Current Obsessions:
The deplorable state of traffic in LA and growing a vegetable garden in a stretch of dirt that only gets a small window of direct sunlight every day.
Guilty Pleasure:
Irrational Fear:
Demons and thunder. Neither feels irrational to me, but that's the thing about fear: it never feels irrational to someone in the throws of it.
Favorite Word/Phrase:
Balls. I love that. Balls. It's so much better than Damn. Or any other four-letter word you can think of.