CUTE.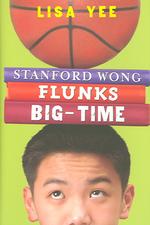 I promised myself I'd post about Stanford Wong Flunks Big-Time before diving into Millicent Min, Girl Genius -- partly because I wanted to keep them separate in my scrawny little pea-brain, partly because I occasionally need to deal with my ever-growing To Be Reviewed pile.
Stanford Wong LOVES basketball. Not only does he love it, he excels at it.
Unfortunately, his dad doesn't go in much for sports. He's a bit more concerned -- okay, concerned is a huge understatement -- about Stanford's grades. Specifically the fact that Stanford has just failed sixth-grade English. Stanford doesn't just have his father's expectations hanging over him -- he has to deal with having a brilliant genius of an older sister, too:
"Stanford Wong? Are you Sarah Wong's little brother?" my teachers always ask. Eventually, when they find out that I am nothing like my sister, I can sense their disappointment. Sarah skipped a grade. So it only seems right that I flunk a grade to balance things out. Hey, maybe I'll be in Ripley's Believe It or Not! The headline will read: STANFORD WONG, THE ONLY STUPID CHINESE KID IN AMERICA!
His grandmother is starting to get more and more forgetful and confused, his parents are fighting all of the time, he's lied to his friends rather than admit the truth about summer school, and WORST OF ALL, he's being tutored by his arch-enemy, Little Miss Smartypants Millicent Min, the only eleven-year-old he knows who carries a briefcase and goes to high school.
It was a joy. I haven't read a boy book in a while -- a regular boy book, no spies or abuse or vampires or murder mysteries -- and this just made me want to find a big pile of similar stories and dig in. Stanford and his buddies argue about boogers vs. snot: which are the hard ones and which the soft; they debate whether farts smell grosser to other people or the same; they tease each other about girls. It was such a welcome change from all of the bitchy-girl-books I've been reading lately.
My very favorite line -- and there were a lot of runners-up -- was in reference to The Outsiders, the very first book that Stanford reads for fun, just for himself:
This book is exactly like my life, except that I am not in a gang and I don't get in a lot of fights and my parents aren't dead.
He's just awesome. I can't wait to read about him from Millicent's perspective. And I hope there will be more!