Franklin Delano Donuthead is eleven years old: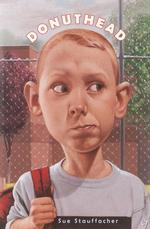 So far, I've just focused on staying alive. If I didn't know there was an astonishingly high probability that I would live through each day--given my age, general health, and relatively high standard of living--I would not get out of bed in the morning.

I avoid motor vehicles whenever possible. According to the National Safety Department, this is by far the most likely way to die as a kid. I also avoid all bodies of water (drowning's number two), and anything that would cause a death-inducing accident (number three). This could be, oh, say, being hit in the temple by a hard grounder down the third base line. In addition, I never play with matches or firearms; never climb trees, ladders, or fences; change the smoke detector batteries every three months; do not drink liquids that are stored under the sink or put any plastic bags over my head.

Gloria Nelots, the chief statistician for the National Safety Department in Washington, has already offered me a job when I graduate from college--if I should live that long. She and I talk at least once a week.
Loved it. Franklin is an original -- sensitive and intelligent and serious and unintentionally hilarious. Even though the tone is light, the book isn't just a bit of fluff -- there are some serious issues touched on. But they appear as more of a dark undercurrent, so they don't weigh the tone down at all. In fact, younger readers may not even notice them.
Highly recommended for fans of Millicent Min... and pretty much everyone else. If I worked in the children's room, I'd be handing it out to pretty much everyone who walked in the door. It was super.
(I'll have to get the sequel. And yes, Harry Sue, too. Sue Staffacher has a new fan.)